THINK Review
Most businesspeople focus their attention on managing time, but this might be misleading. True effectiveness is more about managing and investing your energy, and it starts by paying close attention to your body. Jim Loehr & Tony Schwartz's The Power of Full Engagement describes how to go beyond traditional time management tactics to optimize your daily energy levels by improving your daily habits and routines.
Energy is the new currency
This book introduces many new paradigms that help you view time management in a very different, but positive, way. Everyone has the same 1,440 minutes each day, but the energy you put into your day is variable. That is exactly where you can optimize your life to improve your effectiveness and personal productivity.
Essentially, The Power of Full Engagement comes down to the idea of self-management. The better you take care of yourself, the more productive you will be. Most of us know this on a very basic level but the authors explain in depth how you can excel (or achieve peak performance) when you have all the right components running at full speed in your life and in your body — which can only happen when you are fully engaged in what you do. Full engagement occurs when you are focused and performing at your best, when you have strong boundaries between uptime and downtime. This last piece is important, as the book places a strong emphasis on the idea of renewal: taking time to recover. Many people may view the idea of renewal as a waste of time, but the authors make several good arguments why renewal is key to upgrading your performance.
The Energy Pyramid
Among the great concept introduced in this book is the Energy Pyramid. Below is a simplified version of the Energy Pyramid as how the book explains it: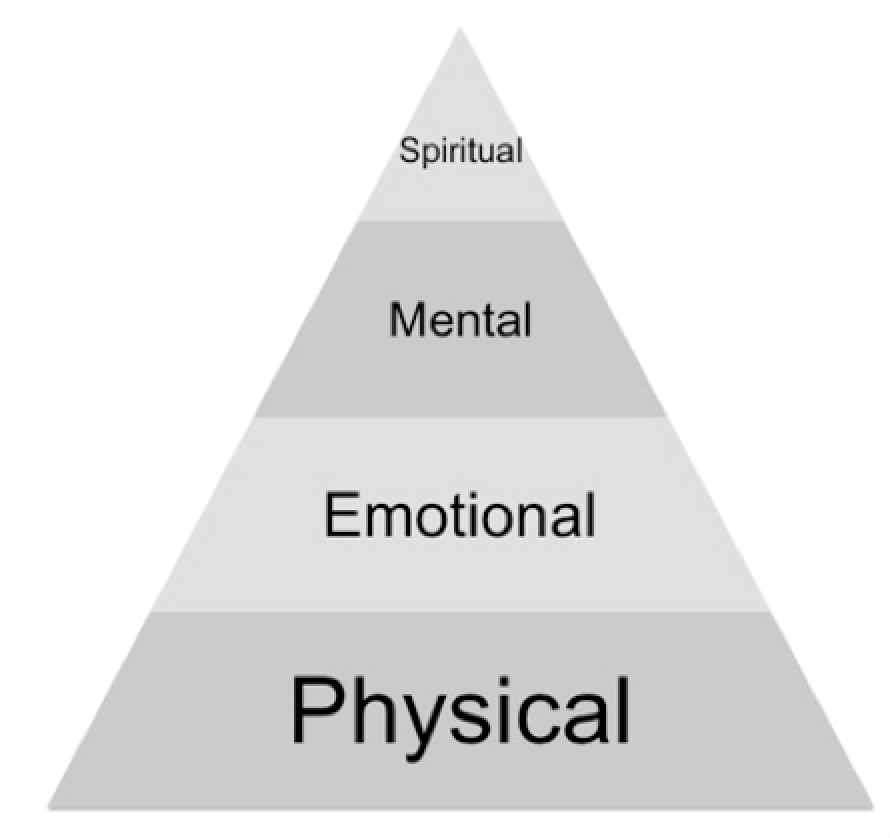 As you can see, the pyramid is divided into four layers: physical, emotional, mental and spiritual. The basic idea behind the energy pyramid is that we have different levels of energy that we use to fuel ourselves. At the bottom of the pyramid is the physical energy we need to survive, such as food, sleep and exercise. It forms the foundation for the rest of the pyramid. The emotional level has to do with how you feel when you perform at your best. There are certain emotions associated with being "in the zone," and the book deconstructs what those are and how you attain them. The mental layer is all about concentration and focus – the better the quality of those components, the more effective you will be. The last layer is spirituality. Here the authors refer to spirituality not in a religious sense, but as main motivation to do work – it's the connection of your core values and your purpose.
It's important to understand that each layer is supported by the layer beneath it. When one component is missing, support is weakened for the rest of the pyramid. For example, if you are angry (emotional), it's difficult to focus (mental). If you are tired (physical), it's impossible to have a sense of enjoyment (emotional) and to concentrate (mental). Each layer supports the others and is interlinked.
An intriguing approach to consider
The authors take a different approach to time management and personal productivity that anyone who wants to kick ass at life will really enjoy reading. As you read you may ask yourself why no one else has been writing about these paradigm shifts, ideas and techniques. We can do very little to manufacture more time, but with practice perhaps we can generate more energy.