How culture drives digital transformation
"An organization's culture is defined by the manner in which employees are treated by their direct leader."
– Dan Pontefract
Companies don't focus enough on their culture.
Company culture is like the attitude of your employees: It will make or break you. The culture of your credit union determines how adaptable you are. In an environment of constant, rapid change, the only constants are agility, change and the ability to pivot in response to changes in the marketplace. Is your organization prepared to pivot?
The attitude of your credit union determines your aptitude for change.
Are you prepared for the future? Maybe it's time to stress test your credit union. In the parlance of financial institutions, a stress test is an analysis/simulation designed to determine the ability of a given financial instrument or financial institution to deal with economic crisis. Starting a digital transformation is also a kind of stress test. Digital transformation scares companies. It's not aligned with the traditional management methods we've worked with and practiced for centuries. It shifts power from top-down to peer-to-peer. It also upends the usual thinking: Top-down processes suddenly become the opposite of efficiency, and risk-aversion equals vulnerability in the face of change. A few other liabilities that undesirable cultures produce:
Tunnel vision: A pure focus on technology instead of achieving meaningful change
Culture of fear: Mid-level managers are afraid to lose control of their basic company functions
Inability to communicate value: Digitally transformed enterprises can show ROI and communicate it to the whole enterprise
Slow processes: No matter the reason, a stalled decision-making process is a red flag for any credit union
These vulnerabilities need to be addressed holistically:
Favor freedom over fear: When people feel the freedom to advance change, amazing things happen.
Explore the outside world: Too many companies have failed because of constant navel-gazing. Explore the world around so you can invest in new opportunities strategically.
Lose the centralization machine: Centralized decision-making is an outdated mode of thinking and limits productivity.
No more infighting: Develop and communicate a clear sense of vision and shared purpose.
A successful digital transformation journey requires involvement on every level of your credit union. One person's success means very little. Transformation occurs only when the whole organization progresses with everybody's help.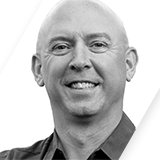 THINK 17 speaker Dan Pontefract, author of
"FLAT ARMY:
Creating a Connected and Engaged Organization," 
writes:
"Organizational culture is not top down. Organizational culture isn't bottom up either. Organizational culture isn't solely for employees and it certainly isn't solely for leaders or managers. If done effectively, organizational culture is one solitude not two. It happens together, harmoniously, built and honed by all and in hopes of participating in one singular working framework. Anyone should be able to write the 'culture deck'. And culture should happen both when the 'manager' is in the room and when she isn't… We must break the divide between employees and senior leadership once and for all. We must deconstruct two solitudes into one. We must — as a singular organism and organization — become both the white and red blood cells as we harmoniously develop an improved immune system. It's not us against them. It's not employees versus management. It's not hierarchy washed away by anarchy or heterarchy. It's people working with people. Period.