DON'T GIVE MEMBERS THE BUSINESS: THINK PASSION
Ivan Askwith noticed something curious when he looked at the TV business. Shows that had the most passionate followings were often most prone to being cancelled. Why? In fact – Askwith noted during his presentation at Wednesday's THINK It Out in Pleasanton, Calif. – catering to a passionate audience isn't what TV networks are in business to do. They aren't trying to generate passion. They're trying to build large audiences, using programming designed to reach the lowest common denominator. They are the broadcasting equivalent of a big bank. If you lead a credit union, there's a message to be had here. While big banks aim to attract large audiences, they leave the playing field wide open for that other thing: passion, otherwise known as devotion, loyalty, affiliation, identification, belonging. What's so great about passion? For Askwith, who studied pop culture and fandom asa grad student at no less than MIT, passion was the key to two record-breaking crowdfunding campaigns – one for the Veronica Mars movie and another to revive the beloved PBS series Reading Rainbow. While neither of these properties had avast audience by network standards, each had a core of dedicated loyalists. Not only were they willing to chip in their own money to see their series play out; they were eager to do so. Flash forward to your credit union. Is there any possible way you can inspire this level of devotion? Askwith thinks you can, if you're willing to take a page out of his book:
"It's not about getting people to want what you have. It's about giving them what they want in the first place."
Take the time and trouble to ask members and prospective members what's missing in their banking relationships and their financial lives. Then, don't sell them what you've got: Give them what they want.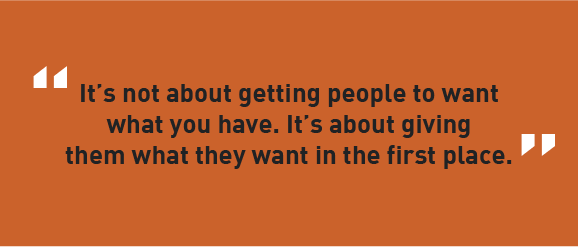 "Have the confidence not to try to compete with banks."
Trying to be the better bank is a losing proposition. Be a credit union, and define that experience in a waythat defies banks to compete with you. "You can fill a much bigger role in people's lives," Askwith asserts.
"Figure out what kinds of opportunities you have to create experiences that people can't have at big banks or national chains."
Creating a unique experiencedoesn't have to be hard, just different and better.
"Nobody thinks about their bank in emotional terms. No one is saying, 'My bank loves the same things I love,' or 'My bank is characterized by the same ideals I have, so it's hard to imagine going somewhere else.' "
If the stakes are based around emotional connection, banks don't have a lot of game.
"You guys are based in communities. You automatically know more about and have more in common with your members than any bank possibly could."
Are you really leveraging that sense of community and belonging?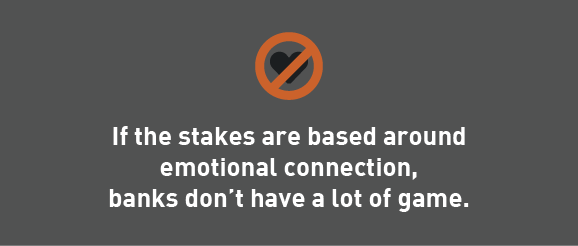 "Banks, just like TV networks, have to be about the lowest common denominator," Askwith says. "At the end of the day, they need to be as many things as possible to everyone, not something perfect for anyone. "Considering the larger role you can serve in [your members'] lives, you could ideally earn not just their business but their loyalty and their evangelism and in the best case scenario their fandom."