FIVE MISSED CONNECTIONS THAT ARE LIMITING YOUR GROWTH
We're hearing more and more about integration as the key to future growth and adaptability. But what about the inverse? When your member experience is dis-integrated, you may be missing connections. Here are five areas to consider:
Technological connectivity:
Credit unions are still working to meet the technology challenge, and with good reason: 70 percent of
Millennials CO-OP surveyed
believe they'll be doing all or the majority of their banking virtually within three years. But in addition to this – or maybe in concert with it – is the challenge of integration. The need is twofold:
• Millennials expect integration. Having individual technologies that don't relate – for instance, online banking that doesn't integrate with mobile – equals frustration. • Credit unions need flexibility. Building systems that not only integrate now, but also promise to expand easily in the future, is a critical move.
Human access:
While visiting the branch in-person is no longer the central member experience, human access still matters. Some 73 percent of Millennials who banked primarily with a credit union told CO-OP they thought credit unions offered better service than banks. How do you find the capacity to deliver that access – in branches and over the phone – without depleting your resources? Shared branching, new self-service technology and call centers like CO-OP Member Center are becoming standard operating procedure.
Social connection:
The Millennial generation is the first to grow up with both digital and social technology. As a result, your social connections drive the conversation between you and your members. For Millennials, an adequate social media presence isn't adequate. "As businesses, we need to adapt to the fact that this is how this new generation uses tech," says social media expert
Randi Zuckerberg
. Miss this connection, and you're missing out.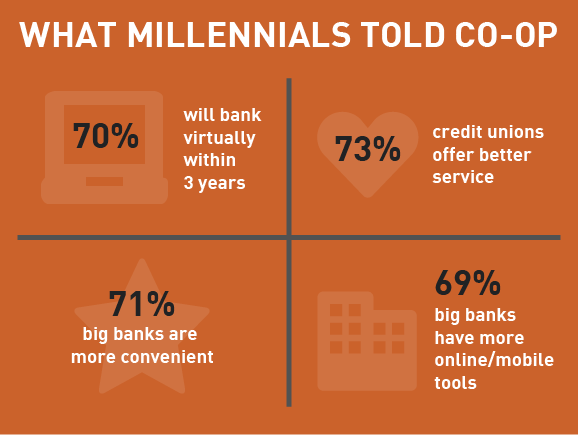 Information, please:
While this category is broad, it represents a vital need. One example: Millennial bank customers who also belong to credit unions told CO-OP they felt large banks offer greater convenience (71 percent) and a wider range of online and mobile banking tools (69 percent) than smaller banks and credit unions. Yet, many credit unions are competitive – and beyond competitive – on these fronts. Making sure your convenience tools are effectively rolled out, differentiated and accessible makes your efforts more meaningful.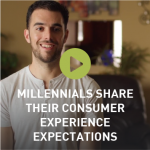 Emotional connection:
Millennials value authenticity and want to feel connected. Are you giving your members and prospective members the opportunity to make an emotional connection? This is not a simple proposition. The connections you forge might be based on common values, community involvement, member education, personal interaction, relevant products and programs or a resonant brand identity. Whatever the case, don't expect members to develop their own sense of belonging. Help them make the connection. Find out more about "Unlocking the Millennial Mystery," CO-OP's exclusive research on Millennials and their relationships with their financial institutions. 
Read Now