How credit unions can financially empower those who need it most
Let's get started!
The Challenge 
The wellbeing of our communities and credit unions depends on the wellbeing of their members – financial stability is at the core of our potential to thrive. Still, many potential members aren't connected with the basic financial services, educational resources and dedicated support they need to make a choice that leads to better financial health and stronger communities. Other factors that lead to a lack of financial empowerment are feeling challenged by navigating complex systems, diminished trust in financial institutions and a stigma around discussing money.
How can credit unions themselves become part of the solution for individuals and the larger community? 
Many individuals have contributed already with insightful ideas:
Free checking account where the penalty is education
.
Public libraries as financial education hubs
.
Creating a sustainable community-based financial literacy educational program.
Our goal is that credit unions will become part of the solution and take a leadership role in driving towards financial empowerment for the community. Deeply rooted in and passionate about the community, thorough understanding of the financial landscape and with a social good mindset: Who is better equipped to answer the challenge?
Big questions can seem overwhelming, just like conquering Mt. Everest. But just like the trek to the Himalayas, every big project starts with small steps. Our partner OpenIdeo recently created a
Resources
page of toolkits, assets, and references that have emerged from working with communities for years. These tools come in handy as we're in the middle of the Ideas Phase of the Financial Empowerment Challenge.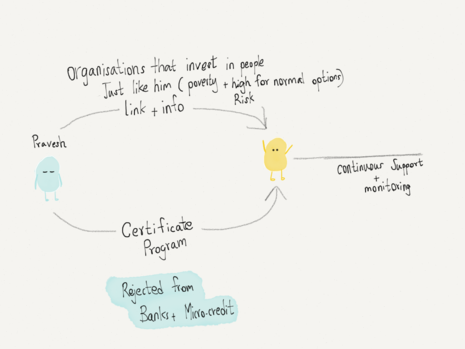 Let's get visual
It can be a napkin sketch, a diagram or a basic video idea: visualizations can help bring ideas to life by simplifying complexity. During the
Research Phase
of this challenge, we were amazed when Kyaw Tun Sein used 
an early sketch
to explore how two solutions can be developed to empower a 19-year-old persona named Parvesh financially. It was a great example of how visualizations can be used to engage an audience as ideas are further developed.
Brainstorm in a Box
The downloadable 
Brainstorm in a Box toolkit
is a wonderful resource for credit unions who are keen on organizing in-person creative workshops. Since the beginning of the
Ideas Phase
, we've been excited to see this toolkit be used in ongoing brainstorm sessions from 
Ryan's History Classes
 and 
OpenIDEO Chicago Meetup's Global Research Jam
. As the challenge progresses, we'll look forward to seeing more ideas from our credit union community.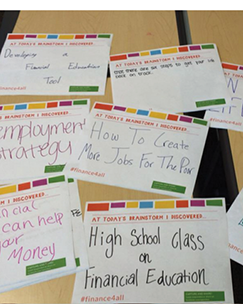 How might communities themselves become part of the solution to this financial disconnectedness?
Why Communities?
Communities are inherently built on trust, common values and shared responsibility. In this challenge let's explore these fundamental strengths as we develop solutions that lift up the financial capabilities of people everywhere. Communities can take many forms – families and neighborhoods, schools and clubs, offices and places of worship, to name a few – so let's unlock the power of these values, institutions, systems and networks to create new solutions for greater financial education and empowerment in communities everywhere.