MILLENNIALS: CONTROL YOUR OWN EXPERIENCE
Live from THINK It Out in Ontario, California.
"The young do not know enough to be prudent, and therefore they attempt the impossible – and achieve it, generation after generation." - Pearl S. Buck
Millennials are the most researched generation in history. Opinions about this emerging socio-economic power are all over the map: Confident. Entitled. Civic-minded. Narcissistic. Tolerant. Detached from institutions. Many opinions, not a lot of consensus. We know this generation is the future of banking. As a highly-engaged audience, Millennials want the freedom to interact with a digital banking solution that meets their financial needs. Ben Colvin, Global Practice Leader Retail Banking and Debit, MasterCard, (pictured below) helped to lift the opinion fog surrounding Millennials and explored the intersection of emerging technologies, behavior and its impact on traditional payments.
Cautious But Curious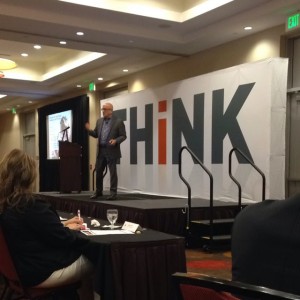 Millennials use and expect online and/or mobile tools for everyday banking transactions. They see technology as an enabler, and they embrace new and innovative gadgets as status symbols within their circle of peers. If they don't receive the experience they want, they have no qualms about pursuing other digital banking providers that will meet their needs. Fragmented, cross-channel solutions are not acceptable for the cross-device lifestyle of Millennials. Credit unions need to pique Millennials' curiosity, and keep them engaged across all devices, by delivering superior transactional experiences, followed by cross-selling relevant products and services through their single digital banking platform based on the customer's activity. By customizing offers and services that are most relevant to this audience, credit unions can ultimately create a highly relevant user experience that keeps them engaged. Not all Millennials are the same and their needs are constantly evolving. They are just at the start of their life journeys and their desires may unfold over time, from pure transactions to more consultative relationships. Millennials are not only the future of banking: They are the future. Credit unions need to help them achieve the impossible.
Read about "Unlocking the Millennial Mystery," CO-OP's proprietary research on Millennials and their financial institutions. Click here.