WHAT DO MILLENNIALS WANT TO KNOW ABOUT MONEY?
Millennials want and need to know how to manage their money, but what information will actually help? Here are five key ideas:
Q: How do I deal with a financial crisis?
According to a survey of 401(k) plan participants from Fidelity, 44 percent of job changers in their twenties cashed out all or part of their retirement money, despite being hit with taxes and penalties.
How to Help:
Though some of these job changers may have been whimsical in their decisions, other twenty-somethings may simply have needed the cash to carry on. Offering financial advice about preparing for a financial crisis – or even a blip on the financial radar – must take into account just how tenuous finances can be in one's twenties. Instead of laying on the judgment, how about recognizing the real challenges of starting out?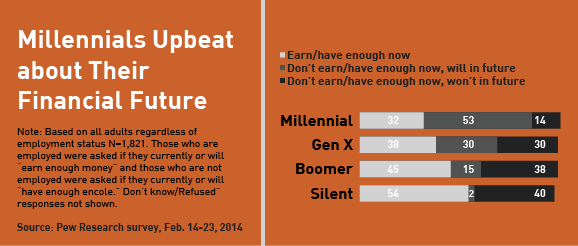 Q: What can I hope for in my financial future?
In a 2012 study, only 41 percent of Millennials said they planned to have children – down from 78 percent 20 years ago. Respondents weren't soured on the parenting experience; they doubted they'd have the financial resources to make it happen. Similarly, nine out of ten Millennials want to own their own homes. Yet, a 2012 study by Harvard University's Joint Center for Housing Studies showed that between 2006 and 2012 home ownership rates fell 12 percent for adults under 35 – about 2 million of whom still lived with their parents. Up-and-coming generations are less likely to own a car, or even a driver's license. According to Yahoo Finance, the percentage of 16-24 year-olds with a driver's license is now below 70 percent, while new car sales to 21-34 year-olds fell 11 percent between 1985 and 2010, from 38 percent to 27.
How to Help:
Many Millennials are hopeful about their future earning potential. In a 2014 Pew Research survey, 53 percent of Millennials said they don't earn enough now to lead the kind of life they want, but expect to in the future. Yet, they don't take financial security for granted. And they don't necessarily embrace the same measures of success their parents did. As marketers, understanding their perspective is everything. Can we help them get from here to wherever they actually wish to go?
Q: How do I start a business?
Intelligence Group studies of Millennials found that 72 percent want to be their own boss.
How to Help:
The financial wherewithal required to launch and grow a business is significant. Not only do Millennials need to learn how to raise money for startup, but they also need to acquire the information and skills needed to run a company – from managing payroll to processing payments. Catering to young entrepreneurs as members? Look for ways to meet their business banking needs, whether or not business lending is a specialty.
Q: Am I ever going to have decent credit?
Nearly 70 percent of Millennials have FICO scores of 680 or less, compared to less than half of 50-59 year-olds, according to 2013 data from the Federal Reserve Bank of New York. Over 40 percent of 22-25 year-olds had student loan balances of $20,000+ in 2013.
How to Help:
Credit is not a simple challenge for Millennials. Many are starting out in life with sketchy employment histories, scant savings and mounds of student debt. Add in a tight credit market and housing prices in metropolitan areas that seem just plain prohibitive (the median price of a single family home in San Francisco, for example, broke $1 million this summer), and the prospect of developing an adequate credit profile seems distant. Can your credit union show its young members a real path to creditworthiness – one that might result in a sizable credit line, actual car loan or adequate mortgage?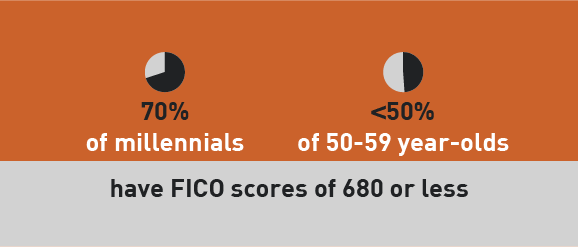 Q: How does a credit union work?
There is a mismatch between how Millennials expect financial services to work and how these services actually work. Forbes.com contributor Kavi Guppta, a self-described Millennial, lists four major complaints:
Access to my money is expensive.
Tech has made banking primarily about transactions.
Getting paid is expensive.
The most important services take forever.
Helping Millennial members understand why these issues exist and – even better – showing them alternative solutions paves the way for a real relationship.
How to Help:
Let's not get carried away: Millennials don't want to know every dry detail. But they might like to know how a credit union differs from a bank. They want to know why fees exist, how they're set, and what ideas you have to help reduce them. They might like to find out why money takes time to travel from one account to the other and what they might do to speed the process. They want to know what they can do to avoid fraud; what to do if fraud occurs; how they might prepare. As technology makes the member experience more mobile and "seamless," it's less and less obvious how a credit union functions. Remove the mystery. What do Millennials really want to know about money? For one thing, they want to know that you get it. Like every generation before them, this generation faces its own unique challenges, aspires to its own brand of success, and requires real, tactical-practical advice for attaining its goals. Don't preach, reach.