Is This the App-ocalypse?
Let's not get it twisted. Apps are not in some kind of cultural death spiral – or even in anything we could call a decline. What we mean is that apps are becoming so plentiful, varied and available that it's harder to see them as special. Consider these statistics: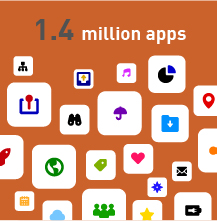 In February 2015, the Google Play store featured 1.4 million Android apps, according to Statista. The same goes for Apple: 1.4 million apps as of early this year.
Overall app usage grew 76 percent between 2013 and 2014, driven largely by messaging, productivity and utility, and shopping apps, according to Flurry Analytics.
Flurry reports that U.S. consumers downloaded 8.8 apps per month in 2014. That's more than two apps per week, week after week.
The average Android owner has 95 apps and uses 35 on a daily basis, says Yahoo/Aviate.
On an anecdotal note, think about how many commonly used apps have generated spinoffs. Facebook, for one, used to be a single app. Now, if you want to receive messages on Facebook, you need Messenger as well. And if you like Facebook, you probably love Instagram and Pinterest. By the way, Pinterest now features app Pins that let you download apps directly from the Pinterest app – because we now need apps to organize our apps.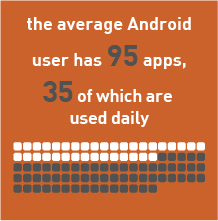 Overwhelmed yet? That seems inevitable, as everything has its limits. Could it be that Americans are nearing their limit? One study suggests they might. A Nielsen report from last year found that Americans increased the time they spent using apps 76 percent between 2012 and 2013 – a leap from 23 hours and 2 minutes to 30 hours and 15 minutes. However, they number of apps they used barely budged – 26.5 in 2012 to 26.8 in 2013. While the number of available apps continues to proliferate, the number of hours in a day does not. Consumers may be reaching their maximum load on apps, which presents more than a few challenges for mobile-minded credit unions.
The novelty is gone.
No one wants another app just because. If you're offering an app, it better have an immediate application.
You're a needle in a haystack.
It's hard enough to be one in a million. Being one in 1.4 million? Suffice it to say, you need a marketing strategy.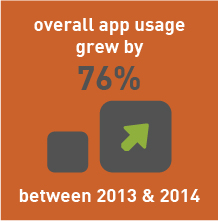 Downloading doesn't guarantee usage.
Remember that app you downloaded to keep track of the midrange Italian wines you were drinking in 2012? You don't? Yeah, exactly.
Waiting is not an option.
If you think you'll just sit this one out until the dust settles, think again. Languishing until you come up with something brilliant is a sure way to hand your market over to other apps – and the FIs that made them. If you can't give up (and, by the way, you can't), how does a credit union compete? Going forward, adjust your approach. Be purposeful about the apps you offer: Members don't need 50 shades of mobile banking. Additional apps must be genuinely useful – for instance, adding an app like CardNav by CO-OP to allow members to manage their card accounts by mobile device, or Sprig by CO-OP to enable members to manage accounts at multiple credit unions using a single app.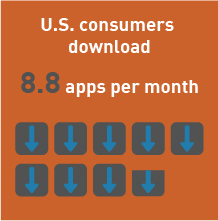 Looking ahead, using APIs to make your credit union app more robust, feature-rich and powerful will help you reduce clutter and juice up the value of your app. What's an API? Think of it as a building block you use to integrate features into an app. In the not-too-distant future, credit unions will be able use APIs to integrate CardNav and Sprig into their mobile apps. Combining greater utility into a single app is one way to improve your odds of maintaining screen space and encouraging actual usage. Mobile is where the action is. According to Flurry, the time we spend on mobile now surpasses the time we spend watching TV. But along with that activity comes the challenge of rising above. How will you cut through the clutter? How will you keep members engaged?