THINK 14: DAILY RECAP, DAY 2
http://youtu.be/vzATP8fnQgQ THINK 14 just got real. In a remarkable day of discovery and self-discovery, THINK 14 attendees challenged and were challenged as never before. In two sessions that were part evangelism, part therapy and 100 percent high-intensity, THINK speakers, attendees and our brand new THINK Starters took on living the credit union promise and delivering on consumer experience. Here's what we heard:
"Share your backstory with pride and exuberance. There's so much integrity in what you do. This should be a movement. There's no reason that this organization – these organizations – shouldn't be able to communicate that integrity to Millennials and to everyone." – Debbie Millman, author and President, Design Division, Sterling Brands
"Integrate not only the people on your team, but also the people you are trying to move. It's not enough to meet their aspirations: Try to exceed them. Understand the aspirations that even the people you are trying to move don't understand yet." – Welby Alitidor, Director of Creation, Cirque de Soleil
"I appreciate Welby's thoughts on maintaining focus – on who and what you're about. We're about helping people fund their financial dreams." – Tony Hildesheim, Redwood Credit Union
[To which Altidor added: "I would remove the word 'financial.' You are funding dreams."]
"This should be the generation that connects with what we do. But that can't happen if, somewhere along the way, we don't have all the goods to back it up." – Lori Reeves, Financial Partners Credit Union
"If you have the power to make decisions and you limit those decisions based only on what will happen the next day, you are ill equipped for the future. The fastest way to go broke is to romanticize the way you make money. Innovation doesn't care about you or me. It just happens." – Gary Vaynerchuk, Vaynermedia
"Credit unions are dealing with money. You're dealing with the one of the most precious things in people's lives. It's the most intimate connection any business can have." – Randi Zuckerberg, Dotcomplicated.com
"I don't know that credit unions are not doing a good job. A lot of the credit unions here are doing a good job. Yes, we need to do more – and we need to focus on continuing to do more -- but I don't feel like we're not doing anything." – Chris Chippindale, Ent Credit Union
"A few years ago, we were fortunate enough to be on 'Good Morning America' with a story about how we saved a family $127,000 We had a mother, father and five kids who were just so overjoyed. We have stories: It's about awareness." – Michael Sullivan, McGraw-Hill Federal Credit Union
THINK Starter Perspective
THINK Starters are a hand-picked group of credit union leaders dedicated to voicing the credit union perspective at THINK 14 and bringing the message home to their credit unions to spark change throughout the year. Tony Hildesheim, Lori Reeves, Chris Chippindale and Michael Sullivan represented THINK Starters – and credit unions – on stage today. In a separate post-meeting debrief, THINK Starters were candid about their experiences. John Barnfather from Caltech Employees Federal Credit Union noted: "It doesn't matter what we think. What do our members think? How can we involve them in some of our strategies? Gary Vaynerchuk called himself 'naïve.' We need those naïve, fresh-eyed people to give us some perspective."
THINK Social
Social engagement at THINK 14 continued to spike, especially during the afternoon when social media giants Gary Vaynerchuk and Randi Zuckerberg took the stage.
Most shared topics
: national larger credit union movement, dispelling myths about credit unions, and marketing for tomorrow, today.
Top 5 Social Insights
@MitchellStankov
: We don't tell our BFF how much money we have, but our teller knows. How can we build a brand on this trust?
@hayleybadeaux
: Youthification is real, I see it every day in my mom, aunts, grandparents....credit unions need to capitalize on it!
@brandiluv
: We are at the point of needing technology to save us from technology.
@wyomartin
: Social media is not an event, it is a long term strategy. You can't dabble, you must implement!
@iechen
: Cu's need to be agile. Be in the space where your members/potential members are.
#coopthink
Stagnance will kill.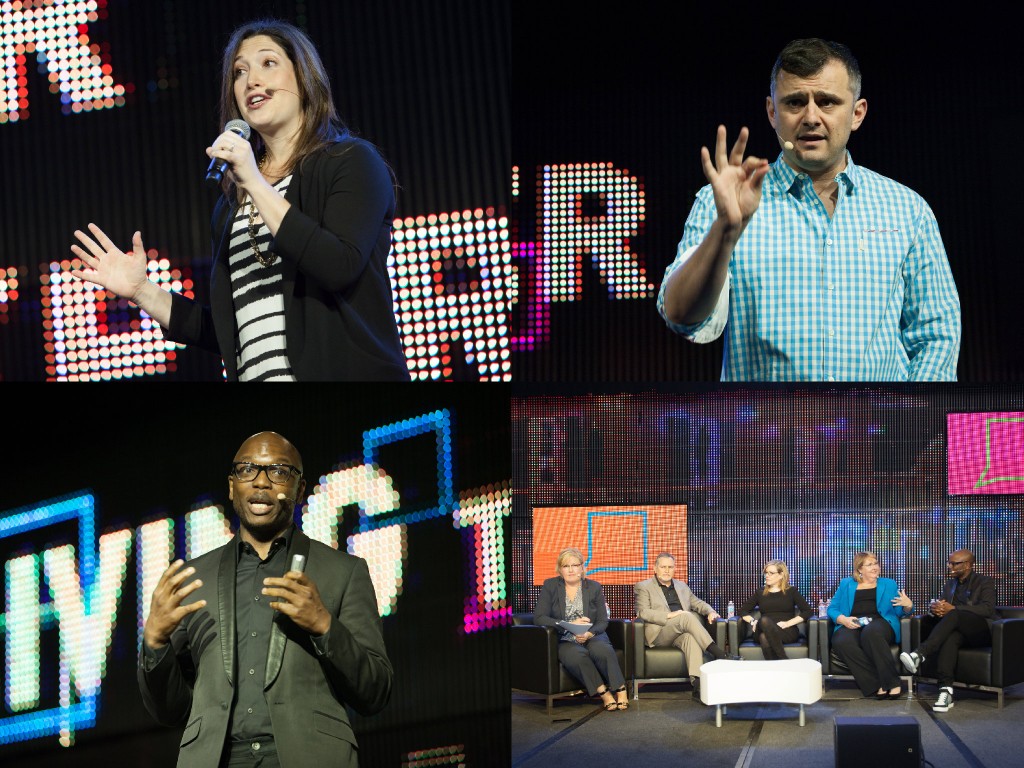 Up Next
Wednesday Morning
: Roll up your sleeves! We'll walk through a THINK Lab that will help you uncover opportunities at your credit union, reveal a new approach to getting the word out and maybe even offer a surprise or two.
Wednesday Afternoon
: Let's take on the business model! People Metrics' Kate Feather and Ivan Askwith, producer of the "Veronica Mars Movie" show and tell how it's done; Bill Cheney and Stan Hollen spill the beans on disrupting the status quo.
Follow the action!
Follow the hashtag #COOPTHINK on Twitter, Instagram and Facebook.