In our final morning at THINK 14, we talked about Leadership, Attitude and Talent – and how we as leaders can motivate and inspire our teams and ourselves.
Susan Cantrell from Accenture shared a range of groundbreaking ideas on customizing work experiences based on individual talents, preferences, lifestyles and goals. Among the many examples she cited: Work spaces that provide degrees of privacy and/or interaction to suit the individual employee; cafeteria-style compensation and benefits, because not every employee is motivated by money; and new methods of gathering data on prospective hires so you have a better idea of what their leadership and cognitive potential really is.
Cantrell noted that customized work experiences are already happening at many organizations, but often informally or on the sly. Formalizing workforce customization "takes it out of the closet," Cantrell says. "When you make these programs transparent and accessible to all, you add a sense of fairness."
Mark Thomspon from Virgin Unite Mentors shared leadership tales from a range of modern-day legends: Steve Jobs, Charles Schwab and Sir Richard Branson. Though the names are certainly familiar, Thompson shared stories that weren't necessarily so. Jobs – who attended the same high school as Thompson – was not always treated well as a young person. Charles Schwab's collaborative approach to leadership came in part from being dyslexic, and therefore aware of the interdependence he had with his team. Sir Richard Branson made mistakes – sometimes spectacular ones – but never let those momentary stumbles slow him down.
Thompson also shared a little-known story from his own past. He grew up in a family that had its share of financial struggles. Their relationship with their credit union helped them learn to manage their limited money – to the point that when Thompson's father passed away unexpectedly, they had enough money saved to continue without disaster.
"It's because of a credit union that I'm here today, and that I had the money to put into a savings account to pay for my daughter's college education, and now medical school," Thompson said. "Thank you. You have an impact on people you may not even know about, because it's what you do normally. You have a noble purpose and you deserve to grow."
Young leaders Brandi Stankovic from Mitchell, Stankovic & Associates; Andrew Johnson from Members 1st Federal Credit Union; and Jaime Crooks from OhioHealthcare Federal Credit Union joined Cantrell and Thompson on stage for a revealing discussion about the experience of being young credit union leaders. The big takeaway? Young leaders want a customized experience, but they also want to learn, stretch, grow and aspire.
"If you're managing young leaders, ask them if there's one thing they'd like to learn more about at the credit union," says Crooks. Mentorship makes a difference.
"Our generation – we grew up being told we had to graduate from high school and graduate from college and get degrees. Then you come into the workforce, and you aren't always even in the room [where decisions are being made.] We just want to get in the room," explains Johnson.
What works for young leaders might be good for you, too. "When I can have a voice, a say, in what my experience can be, I'm super excited and engaged in what I'm doing," Stankovic says. "That's not just for emerging leaders – it's for everybody."
THINK Social
On this last day of THINK 14, most of the social buzz centered around empowering the credit union workforce and creating flexibility in the workplace. Also big: THINK 14's collective donation to Children's Miracle Network Hospitals — $126,500!
Top 5 Social Insights
@ronaldohardy I am excited about the changes we will be implementing at our credit union. We are implementing some things as soon as tomorrow.#coopthink
@RichardRoark "Giving to others is the best gift ever" perhaps there is a way to give the gift of credit union membership?
@COOPTHINK #coopthink 
@kerryja #coopthink Mark Thompson reminds CUs that 'we have a noble purpose that is natural' – a WOW reminder at CO-OP THiNK!
@cmnigro I honestly think that treating each employee as a workforce of one would create more confidence in employees. #coopthink @jannabergstedt
 We're going to help a lot of kids
@CMNHospitals with these donations! Great job #coopthink attendees and @CU4Kids pic.twitter.com/7cd2p2rUDM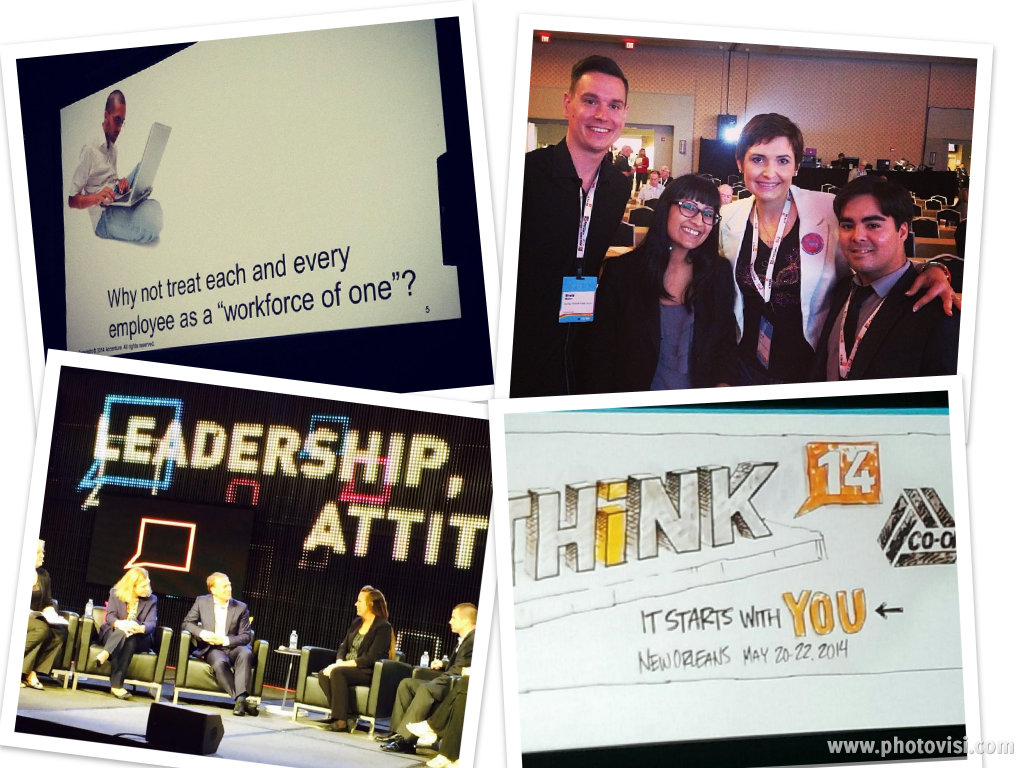 Up Next
Go home! Safe travels and stay connected on our new website, at regional THINK It Out events and at THINK 15 at the glorious Broadmoor in Colorado Springs, May 5-8, 2015.
Keep thinking!
See What We Thought!
Check out the hashtag #COOPTHINK on Twitter, Instagram and Facebook.