IS YOUR THINKING A WORK OF ART?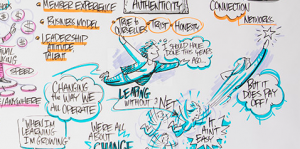 Have you ever had the feeling that something is missing from your thought process?
At THINK 14 we found out what it is. It's Jim Nuttle.
Nuttle is a graphic recording artist who speed drew his way through every THINK presentation, capturing big ideas and small nuances and bringing the inspiration to life. To see how Nuttle captures the idea of a credit union gumbo pot of good ideas, or gives wings to Tess Vigeland's story of jumping without a net – to follow the flow of Welby Altidor's poetic talk on living the promise or Randi Zuckerberg's brilliant unpacking of credit union social media – is to see the world with its missing pieces restored. You can't hire Jim Nuttle to gracefully document every moment of your life (we asked). But in appreciating his work, perhaps you can spark some of the same habits of thinking. Ideas are big and detailed and vivid and inspired. Just THINK.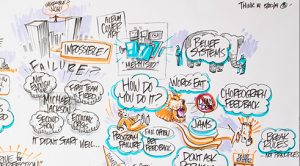 See slides of Jim Nuttle's illustrations from THINK 14
here
.