It's Time to Transform the Way We Do Business
Credit unions have an unprecedented opportunity to transform their businesses and deliver a bold vision for the future. Technology exists that can change the very way business is thought of today. Working in collaboration, we can deliver a new model that positions us to compete in the fast-evolving marketplace of today and tomorrow. Three pillars form a foundation to help us transform the way we do business:
Secure Payments
Seamless Experience
Culture of Innovation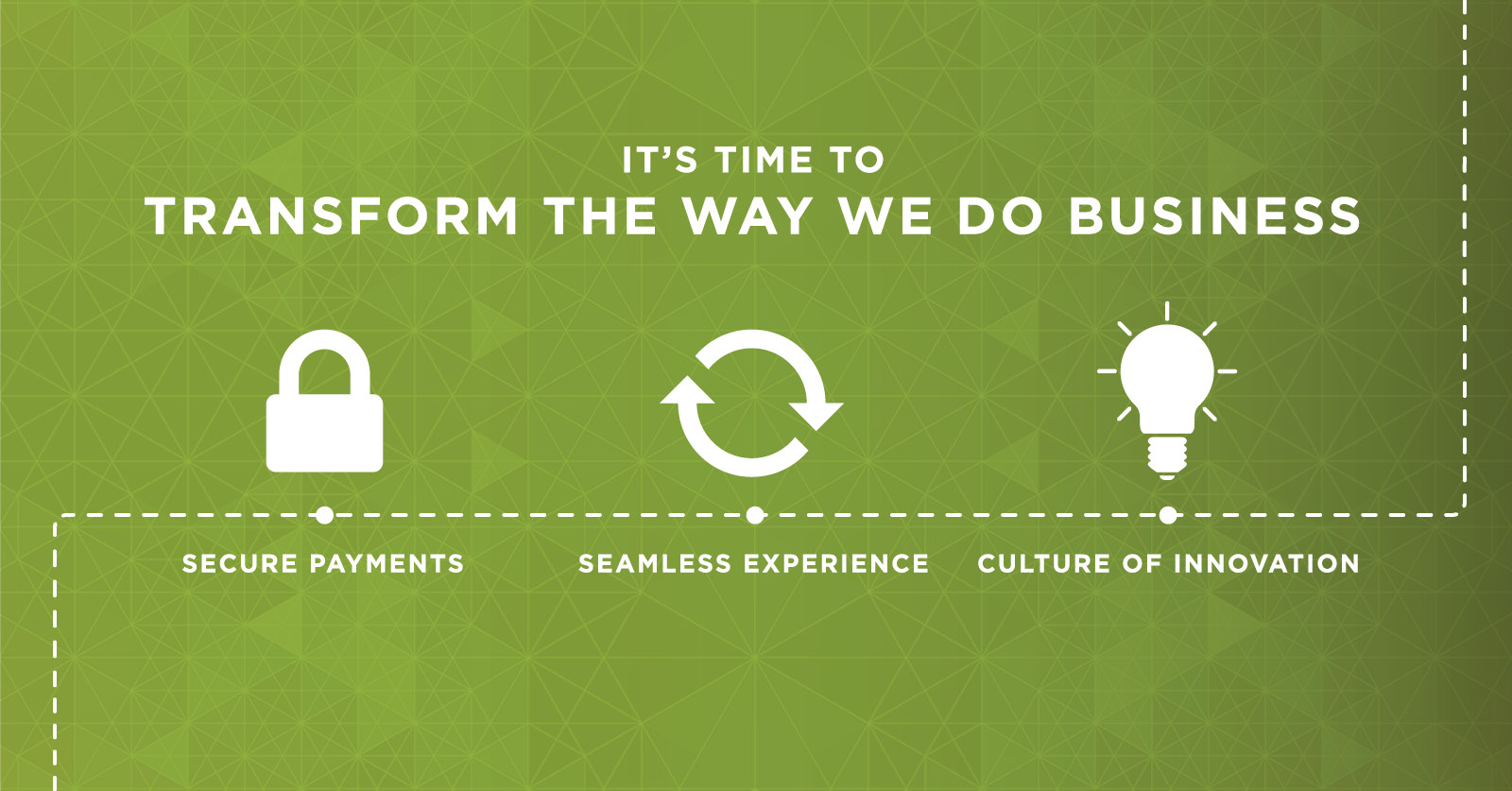 Secure Payments
Payment security opens the doors for innovation in this space. Even as digital payments become more and more ubiquitous, security remains a top reason that consumers are reluctant to try and to use digital payments. Security can stand in the way of a seamless member experience: Just ask anyone who's had to struggle with a falsely declined transaction, failed password attempt or faulty authentication process. Security also competes for valuable innovation resources. And while we all must devote time and money to fighting against fraud – not just now but long into the foreseeable future – this shouldn't be the only place we apply our best thinking. By collaborating to find and deploy the best fraud-fighting tools, we free ourselves to create the kind of member experience today's consumers demand.
Seamless Experience
What is a seamless digital experience today? Realize at 9:00 p.m. that you're out of milk and cereal for breakfast; place a voice order with Alexa and have your Amazon items arrive before your kids wake up the next morning. In a world where the DoorDash app already knows your favorite sandwich and money travels in an instant from one Venmo account to another, stakes are astronomical. And there's a secondary level of experience to consider. In your efforts to deliver a seamless experience to your members, have you created a patched-together experience for yourself and your credit union? Seamlessness today is about streamlining and simplifying the experience – both for you and your members. Thus, in addition to integrated technology and delightful user interfaces, transforming our businesses may require new approaches to how we run our organizations and with whom.
Culture of Innovation
By only supporting incremental improvements within your credit union, you ultimately contribute to greater complexity and stagnation. Instead of starting with an agile mindset, you carry the weight of existing systems and past decisions with you wherever you turn. This creates drag that can seriously hinder your organization's ability to drive innovative thinking. A culture of innovation cherishes possibility thinking – starting with a clear definition of where you want your credit union to be and then spending time trying to figure out what needs to happen to make it true. Focus on the big picture first, then on the project plan and next single improvements. This frees us from the constraints of the current system and processes and allows for a more open field of possible routes to get to a solution. As Stephen Johnson said: "If you look at history, innovation doesn't come just from giving people incentives; it comes from creating environments where their ideas can connect." These three pillars form a foundation for envisioning the future. The real value is in bold thinking and creatively reinventing the way members will do business with us. We are ready. Are you?